Church Women United is a racially, culturally, theologically inclusive Christian women's movement celebrating unity in diversity and working for a world of peace and justice.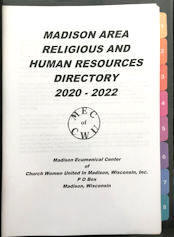 2020-2022 Madison Area Religious
& Human Resources Directory
Church Women United in Madison produces a directory of resources for the Madison area which is made available to churches and other organizations. This directory is a wealth of information about area churches, food pantries, meal sites, food programs, shelter, clothing and more. Copies are available for $15 each plus $5 shipping. To obtain a copy, download an order form, click here. You may also email CWUmadison@gmail or call the Madison Ecumenical Center at 608-347-4724



National Church Women United is an ecumenical movement of Christian women active in over 1200 local and state units.

Quadrennial Priorities 2016-2020
Learning and Leading Using Principles of God's Word
Human Rights: We believe every child has the right to a quality education.
Hunger and Poverty: As women of faith, we are called to feed the poor, shelter the homeless and protect our children.
Health and Wellness: To focus on women's health and heart disease.
Diversity and Inclusiveness: We understand in an increasingly diverse and global world, the gospel of Christ is our example for embracing differences in wealth, in ethnicity, in culture and in race.